Detroit: Back To The Motor City (KC Sound KC-011, 2013)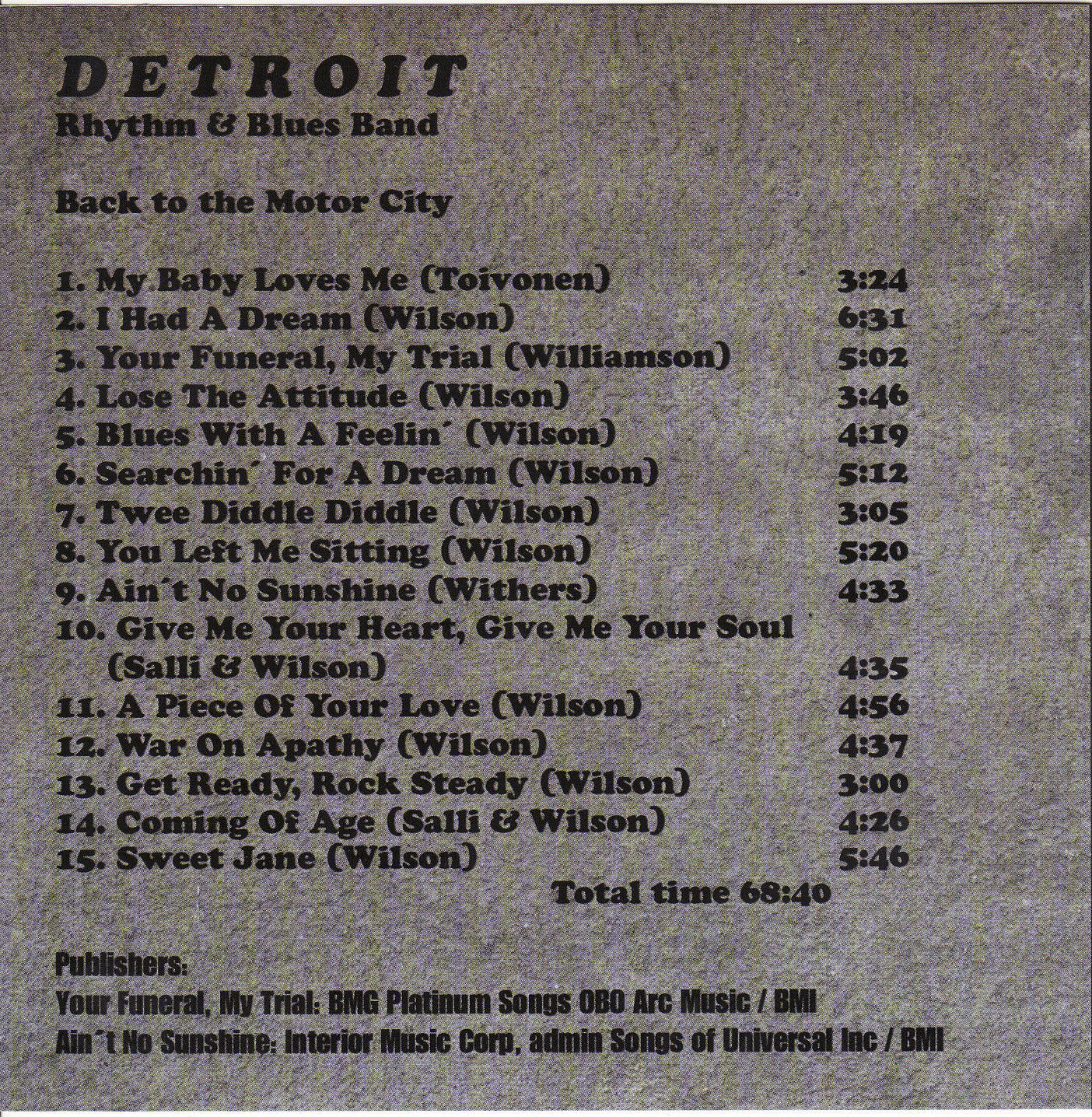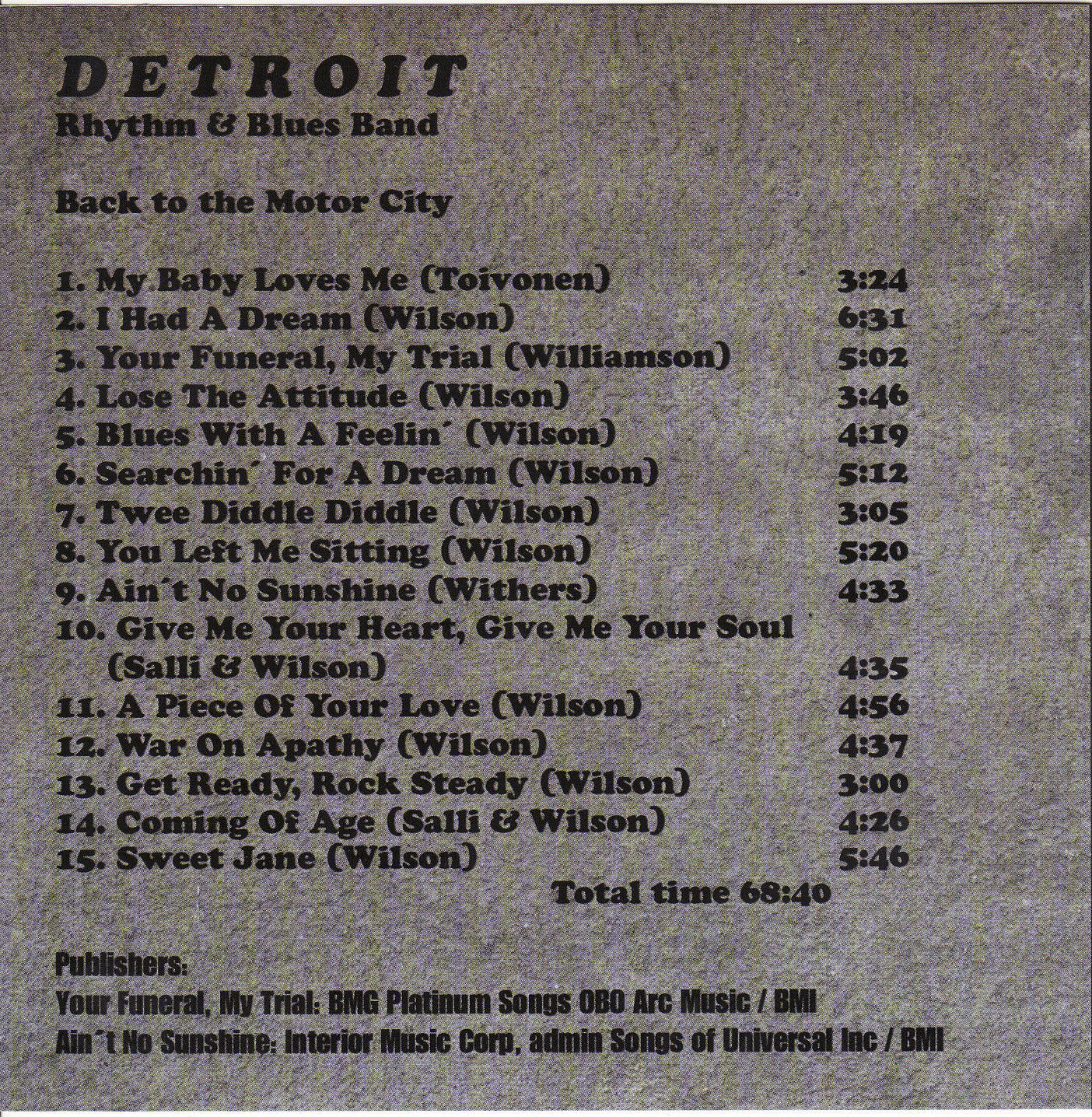 sale
Detroit: Back To The Motor City (KC Sound KC-011, 2013)
Detroit´s album "Back To The Motor City" consists of a mixture of different rhythm & blues styles, and beyond that. As Roland Wilson, singer, guitar player and main writer in the band says, "Although I left Detroit many, many long years ago, my musical ambitions always seem to return to my roots and to the different styles of music which I absorbed in the Motor City".
Roland Wilson: vocals, guitar; Judo Jalava: Hammond, piano, backing vocals; Teijo Saarinen: bass, backing vocals; Christer Karjalainen: drums, percussion.
with help from a group of fine musicians, some of them having been in the band earlier:
Heikki Hämäläinen: harmonica; Tapani Jalonen: Rhodes; Antti Karineva: dobro; Elmo Karjalainen: guitar; Timo Mansikka-Aho: trumpet, trombone; Sasa Opacic: guitar; Pekka Välimäki: tenor saxophone
The tracks (a couple are remakes of older songs):
1. My Baby Loves Me (Toivonen)
2. I Had A Dream (Wilson)
3. Your Funeral, My Trial (Williamson)
4. Lose The Attitude (Wilson)
5. Blues With A Feelin´ (Wilson)
6. Searchin´ For A Dream (Wilson)
7. Twee Diddle Diddle (Wilson)
8. You Left Me Sitting (Wilson)
9. Ain´t No Sunshine (Withers)
10. Give Me Your Heart, Give Me Your Soul (Salli & Wilson)
11. A Piece Of Your Love (Wilson)
12. War on Apathy (Wilson)
13. Get Ready, Rock Steady (Wilson)
14. Coming Of Age (Salli & Wilson)
15. Sweet Jane (Wilson)
Total time 68:38.
Weight with bubblebag 101g
Mr. Riku Metelinen of the magazine Blues News reviewed the album in the issue 265 (1/2014), and considered it on of the best rhythm&blues albums released in Finland in 2013.
Here are some short quotes (in translation from Finnish):
"the band has found a working formula (...). With the help of musician friends, the album is suitably invigorated. Roland Wilson sings all the songs on the album, but hopefully Judo Jalava also gets to sing on future releases.
The swaying melody of the opening track gets the listener right away and Timo Mansikka-Aho" (the horn player) " supports the band in a fine fashion. The second track with its sturdy melody and its rampant Hammond increases the revolutions in the machine. I have to say that these are perhaps the two tightest opening tracks in a long time. Of the two cover songs Your Funeral, My Trial works fine, but the real ice melter is Ain´t No Sunshine, where the band has a great feeling. Even though Freddie King´s version has always been close to my heart, this one is almost as good. A special spice to the songs is brought by Antti Karineva and his dobro. The guitar solo is played by Elmo Karjalainen, who seamlessly switches from Eric Clapton´s style to Jeff Beck in the middle of the solo, but without any unnecessary (guitar tricks)".
The review goes on in the same fashion. Here´s a little more:
"There are many favourite tracks on the album (...). Give Me Your Heart, Give Me Your Soul, played on slide guitar by Sasa Opacic, also stand out favourably".
"In short, Detroit is a fine melting pot of styles, with an album containing blues, rock, soul and a little bit of psychedelia. The band makes functioning songs with melodic power".
"...it just is a fact that this is one of the best (Finnish) blues releases of 2013"
CD-Audio, jewelcase, 4 page leaflet, back page. Sealed with cellophane